HERE
)
Edward III (1312 - 1377)
HERE
)
Edward III
1327-1377 AD
Edward's youth was spent in his mother's court and he was crowned at age fourteen after his father was deposed. After three years of domination by his mother and her lover, Roger Mortimer, Edward instigated a palace revolt in 1330 and assumed control of the government. Mortimer was executed and Isabella was exiled from court. Edward was married to Philippa of Hainault in 1328 and the union produced many children; the 75% survival rate of their children - nine out of twelve lived through adulthood - was incredible considering conditions of the day.
War occupied the largest part of Edward's reign. He and Edward Baliol defeated David II of Scotland and drove David into exile in 1333. French cooperation with the Scots, French aggression in Gascony, and Edward's claim to the disputed throne of France (through his mother, Isabella) led to the first phase of the Hundred Years' war. The naval battle of Sluys (1340) gave England control of the Channel, and battles at Crecy (1346) and Calais (1347) established English supremacy on land. Hostilities ceased in the aftermath of the Black Death but war flared up again with an English invasion of France in 1355. Edward, the Black Prince and eldest son of Edward III, trounced the French cavalry at Poitiers (1356) and captured the French King John. In 1359, the Black Prince encircled Paris with his army and the defeated French negotiated for peace. The Treaty of Bretigny in 1360 ceded huge areas of northern and western France to English sovereignty. Hostilities arose again in 1369 as English armies under the king's third son, John of Gaunt, invaded France. English military strength, weakened considerably after the plague, gradually lost so much ground that by 1375, Edward agreed to the Treaty of Bruges, leaving only the coastal towns of Calais, Bordeaux, and Bayonne in English hands.
The nature of English society transformed greatly during Edward's reign. Edward learned from the mistakes of his father and affected more cordial relations with the nobility than any previous monarch. Feudalism dissipated as mercantilism emerged: the nobility changed from a large body with relatively small holdings to a small body that held great lands and wealth. Mercenary troops replaced feudal obligations as the means of gathering armies. Taxation of exports and commerce overtook land-based taxes as the primary form of financing government (and war). Wealth was accrued by merchants as they and other middle class subjects appeared regularly for parliamentary sessions. Parliament formally divided into two houses - the upper representing the nobility and high clergy with the lower representing the middle classes - and met regularly to finance Edward's wars and pass statutes. Treason was defined by statute for the first time (1352), the office of Justice of the Peace was created to aid sheriffs (1361), and English replaced French as the national language (1362).
Despite the king's early successes and England's general prosperity, much remained amiss in the realm. Edward and his nobles touted romantic chivalry as their credo while plundering a devastated France; chivalry emphasized the glory of war while reality stressed its costs. The influence of the Church decreased but John Wycliff spearheaded an ecclesiastical reform movement that challenged church exploitation by both the king and the pope. During 1348-1350, bubonic plague (the Black Death) ravaged the populations of Europe by as much as a fifty per cent. The flowering English economy was struck hard by the ensuing rise in prices and wages. The failed military excursions of John of Gaunt into France caused excessive taxation and eroded Edward's popular support.
The last years of Edward's reign mirrored the first, in that a woman again dominated him. Philippa died in 1369 and Edward took the unscrupulous Alice Perrers as his mistress. With Edward in his dotage and the Black Prince ill, Perrers and William Latimer (the chamberlain of the household) dominated the court with the support of John of Gaunt. Edward, the Black Prince, died in 1376 and the old king spent the last year of his life grieving. Rafael Holinshed, in Chronicles of England, suggested that Edward believed the death of his son was a punishment for usurping his father's crown: "But finally the thing that most grieved him, was the loss of that most noble gentleman, his dear son Prince Edward . . . But this and other mishaps that chanced to him now in his old years might seem to come to pass for a revenge of his disobedience showed to his in usurping against him. . ."
King Edward III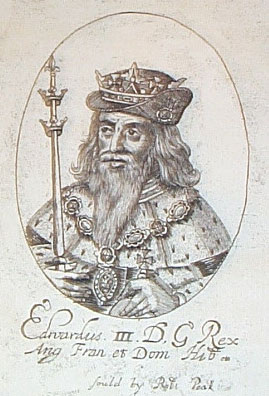 AKA
Edward Plantagenet
Born:
13-Nov
-1312
Birthplace:
Windsor, Berkshire, England
Died:
21-Jun
-1377
Location of death:
Sheen Palace, Surrey, England
Cause of death:
Stroke
Remains:
Buried,
Westminster Abbey, London, England
Gender:
Male
Race or Ethnicity:
White
Sexual orientation:
Straight
Occupation:
Royalty
Nationality:
England
Executive summary:
King of England, 1327-77
Edward III, King of England, eldest son of
King Edward II
and Isabella of France, was born at Windsor on the 13th of November 1312. In 1320 he was made Earl of Chester, and in 1325 Duke of Aquitaine, but he never received the title of Prince of Wales. Immediately after his appointment to Aquitaine, he was sent to France to do homage to his uncle
Charles IV
, and remained abroad until he accompanied his mother and Mortimer in their expedition to England. To raise funds for this he was betrothed to Philippa, daughter of the count of Hainaut. On the 26th of October 1326, after the fall of Bristol, he was proclaimed warden of the kingdom during his father's absence. On the 13th of January 1327 parliament recognized him as king, and he was crowned on the 29th of the same month.
For the next four years Isabella and Mortimer governed in his name, though nominally his guardian was Henry, Earl of Lancaster. In the summer he took part in an abortive campaign against the Scots, and was married to Philippa at York on the 24th of January 1328. On the 15th of June 1330 his eldest child,
Edward the Black Prince
, was born. Soon after, Edward made a successful effort to throw off his degrading dependence on his mother and her paramour. In October 1330 he entered Nottingham Castle by night, through a subterranean passage, and took Mortimer prisoner. On the 29th of November the execution of the favorite at Tyburn completed the young king's emancipation. Edward discreetly drew a veil over his mother's relations with Mortimer, and treated her with every respect. There is no truth in the stories that henceforth he kept her in honorable confinement, but her political influence was at an end.
Edward III's real reign now begins. Young, ardent and active, he strove with all his might to win back for England something of the position which it had acquired under
King Edward I
. He bitterly resented the concession of independence to Scotland by the treaty of Northampton of 1328, and the death of
Robert the Bruce
in 1329 gave him a chance of retrieving his position. The new king of Scots, David, who was his brother-in-law, was a mere boy, and the Scottish barons, exiled for their support of Robert Bruce, took advantage of the weakness of his rule to invade Scotland in 1332. At their head was Edward Baliol, whose victory at Dupplin Moor established him for a brief time as king of Scots. After four months Baliol was driven out by the Scots, whereupon Edward for the first time openly took up his cause. In 1333 the king won in person the battle of Halidon Hill over the Scots, but his victory did not restore Baliol to power. The Scots despised him as a puppet of the English king, and after a few years David was finally established in Scotland. During these years England gradually drifted into hostility with France. The chief cause of this was the impossible situation which resulted from Edward's position as Duke of Gascony. Contributing causes were Philip's support of the Scots and Edward's alliance with the Flemish cities, which were then on bad terms with their French overlord, and the revival of Edward's claim, first made in 1328, to the French crown. War broke out in 1337, and in 1338 Edward visited Coblenz, where he made an alliance with the emperor Louis the Bavarian. In 1339-40 Edward endeavored to invade France from the north with the help of his German and Flemish allies, but the only result of his campaigns was to reduce him to bankruptcy.
In 1340, however, he took personal part in the great naval battle off Sluys, in which he absolutely destroyed the French navy. In the same year he assumed the title of King of France. At first he did this to gratify the Flemings, whose scruples in fighting their overlord, the French king, disappeared when they persuaded themselves that Edward was the rightful King of France. However, his pretensions to the French crown gradually became more important. The persistence with which he and his successors urged them made stable peace impossible for more than a century, and this made the struggle famous in history as the Hundred Years' War. Until the days of
King George III
every English king also called himself King of France.
Despite his victory at Sluys, Edward was so exhausted by his land campaign that he was forced before the end of 1340 to make a truce and return to England. He unfairly blamed his chief minister, Archbishop Stratford, for his financial distress, and immediately on his return vindictively attacked him. Before the truce expired a disputed succession to the Duchy of Brittany gave Edward an excuse for renewing hostilities with France. In 1342 he went to Brittany and fought an indecisive campaign against the French. He was back in England in 1343. In the following years he spent much time and money in rebuilding Windsor Castle, and instituting the Order of the Garter, which he did in order to fulfil a vow that he had taken to restore the Round Table of Arthur. His finances, therefore, remained embarrassed despite the comparative pause in the war, although in 1339 he had repudiated his debt to his Italian creditors, a default that brought about wideapread misery in Florence.
A new phase of the French war begins when in July 1346 Edward landed in Normandy, accompanied by his eldest son, Edward, prince of Wales, a youth of sixteen. In a memorable campaign Edward marched from La Hogue to Caen, and from Caen almost to the gates of Paris. It was a plundering expedition on a large scale, and like most of Edward's campaigns showed some want of strategic purpose. But Edward's decisive victory over the French at Crécy, in Ponthieu on the 26th of August, where he scattered the army with which Philip VI attempted to stay his retreat from Paris to the northern frontier, signally demonstrated the tactical superiority of Edward's army over the French. Next year Edward effected the reduction of Calais. This was the most solid and lasting of his conquests, and its execution compelled him to greater efforts than the Crécy campaign. Other victories in Gascony and Brittany further emphasized his power. In 1346, David, king of Scots, was also defeated and taken prisoner at Nevilles Cross, near Durham. In the midst of his successes, however, want of money forced Edward to make a new truce in 1347. He was as far from the conquest of France as ever.
Edward returned to England in October 1347. He celebrated his triumph by a series of splendid tournaments, and completed his scheme for the establishment of the Order of the Garter. In 1348 he rejected an offer of the imperial throne. In the same year the Black Death first appeared in England, and raged until 1349. Yet the horrors which it wrought hardly checked the magnificent revels of Edward's court, and neither the plague nor the truce stayed the course of the French war, though what fighting there was was indecisive and on a small scale. Edward's martial exploits during the next years were those of a gallant knight rather than those of a responsible general. Conspicuous among them were his famous combat with Eustace de Ribemont, near Calais in 1349, and the hard-fought naval victory over the Spaniards off Winchelsea in 1350.
Efforts to make peace, initiated by
Pope Innocent VI
, came to nothing, though the English commons were now weary of the war. The result of this failure was the renewal of war on a large scale. In 1355 Edward led an unsuccessful raid out of Calais, and in January and February 1356 harried the Lothians, in the expedition famous as the Burned Candlemas. His exploits sank into insignificance as compared with those of his son, whose victory at Poitiers, on the 19th of September 1356, resulted in the captivity of King John, and forced the French to accept a new truce. Edward entertained his royal captive very magnificently, and in 1359 concluded with him the treaty of London, by which John surrendered so much that the French repudiated the treaty. Edward thereupon resolved to invade France afresh and compel its acceptance. On the 28th of October he landed at Calais, and advanced to Reims, where he hoped to be crowned King of France. The strenuous resistance of the citizens frustrated this scheme, and Edward marched into Burgundy, whence he made his way back towards Paris. Failing in an attack on the capital, be was glad to conclude, on the 8th of May 1360, preliminaries of peace at Brétigny, near Chartres. This treaty, less onerous to France than that of London, took its final form in the treaty of Calais, ratified by King John on the 9th of October. By it Edward renounced his claim to France in return for the whole of Aquitaine.
The treaty of Calais did not bring rest or prosperity either to England or France. Fresh visitations of the Black Death, in 1362 and 1369, intensified the social and economic disturbances which had begun with the first outbreak in 1348. Desperate, but not very successful efforts were made to enforce the statute of Labourers, of 1351, by which it was sought to maintain prices and wages as they had been before the pestilence. Another feature of these years was the anti-papal, or rather anti-clerical, legislation embodied in the statutes of Provisors and Praemunire. These measures were first passed in 1351 and 1353, but often repeated. In 1366 Edward formally repudiated the feudal supremacy over England, still claimed by the papacy by reason of John's submission. Another feature of the time was the strenuous effort made by Edward to establish his numerous family without too great expense. In the end the estates of the houses of Lancaster, Kent, Bohun, Burgh and Mortimer swelled the revenues of Edward's children. and grandchildren, in whose favor also the new title of duke was introduced.
In 1369 the French king,
Charles V
, repudiated the treaty of Calais and renewed the war. Edward's French dominions gladly reverted to their old allegiance, and Edward showed little of his former vigor in meeting this new trouble. He resumed the title and arms of King of France, but left most of the fighting and administration of his foreign kingdoms to his sons, Edward and John. While the latter were struggling with little success against the rising tide of French national feeling, Edward's want of money made him a willing participator in the attack on the wealth and privileges of the Church. In 1371 a clerical ministry was driven from office, and replaced by laymen, who proved however, less effective administrators than their predecessors. Meanwhile Aquitaine was gradually lost; the defeat of Pembroke off La Rochelle deprived England of the command of the sea, and Sir Owen ap Thomas, a grand-nephew of Llewelyn ab Gruffyd, planned with French help an abortive invasion of Wales. In 1371 the Black Prince came back to England with broken health, and in 1373 John of Lancaster marched to little purpose through France, from Calais to Bordeaux. In 1372 Edward made his final effort to lead an army, but contrary winds prevented his even landing his troops in France. In 1375 he was glad to make a truce, which lasted until his death. By it the only important possessions remaining in English hands were Calais, Bordeaux, Bayonne and Brest.
Edward was now sinking into his dotage. After the death of Queen Philippa he fell entirely under the influence of a greedy mistress named Alice Perrers, while the Black Prince and
John of Gaunt
became the leaders of sharply divided parties in the court and council of the king. With the help of Alice Perrers John of Gaunt obtained the chief influence with his father, but his administration was neither honorable nor successful. His chief enemies were the higher ecclesiastics, headed by William of Wykeham, bishop of Winchester, who had been excluded from power in 1371. John further irritated the clergy by making an alliance with
John Wycliffe
. The opposition to John was led by the Black Prince and Edmund Mortimer, Earl of March, the husband of Edward's grand-daughter, Philippa of Clarence. At last popular indignation against the courtiers came to a head in the famous Good Parliament of 1376. Alice Perrers was removed from court, and Duke John's subordinate instruments were impeached. But in the midst of the parliament the death of the Black Prince robbed the commons of their strongest support. John of Gaunt regained power, and in 1377 a new parliament, carefully packed by the courtiers, reversed the acts of the Good Parliament. Not long after Edward III died, on the 21st of June 1377.
Edward III was not a great man like Edward I. He was, however, an admirable tactician, a consummate knight, and he possessed extraordinary vigor and energy of temperament. His court, described at length in Froissart's famous chronicle, was the most brilliant in Europe, and he was himself well fitted to be the head of the magnificent chivalry that obtained fame in the French wars. Though his main ambition was military glory, he was not a bad ruler of England. He was liberal, kindly, good-tempered and easy of access, and his yielding to his subject's wishes in order to obtain supplies for carrying on the French war contributed to the consolidation of the constitution. His weak points were his wanton breaches of good faith, his extravagance, his frivolity and his self-indulgence. Like that of Edward I his ambition transcended his resources, and before he died even his subjects were aware of his failure.
Edward had twelve children, seven sons and five daughters. Five of his sons played some part in the history of their time, these being Edward the Black Prince, Lionel of Antwerp, duke of Clarence, John of Gaunt, duke of Lancaster, Edmund of Langley, afterwards duke of York, and Thomas of Woodstock, afterwards duke of Gloucester. John and Edmund are also important as the founders of the rival houses of Lancaster and York. Each of the last four was named from the place of his birth, and for the same reason the Black Prince is sometimes called Edward of Woodstock. The king's two other sons both died in infancy. Of his daughters, three died unmarried; the others were Isabella, who married into the family of Coucy, and Mary, who married into that of Montfort.
Father:
King Edward II
Mother:
Isabella of France
Wife:
Philippa of Hainaut
(m. 24-Jan-1328)
Son:
Edward the Black Prince
(b. 1330, d. 1376)
Son:
Lionel of Antwerp (b. 1338, d. 1368)
Son:
John of Gaunt
(b. 1340, d. 1399)
Son:
Edmund of Langley (b. 1341, d. 1402)
Son:
Thomas of Woodstock (b. 1355, d. 1397)
Daughter:
Isabella Plantagenet (b. 1332, d. 1382)
Daughter:
Joan Plantagenet (b. 1335, d. 1348)
Daughter:
Blanche Plantagenet (b. 1342)
Daughter:
Mary Plantagenet (b. 1344, d. 1362)
Daughter:
Margaret Plantagenet (b. 1346, d. 1361)
Mistress:
Alice Perrers
Brother:
John, Earl of Cornwall
| | |
| --- | --- |
| Plantagenet | |
Edward III
1327-77
Early Life
Phillipa was kind and inclined to be generous and exercised a steadying influence on her husband. Their eldest son Edward, later known as the Black Prince, was born on 15th June 1330, when his father was eighteen. Phillipa of Hainault was a popular Queen Consort, who was widely loved and respected, and theirs was a very close marriage, despite Edward's frequent infidelities. She frequently acted as Regent in England during Edward's absences in France. Froissart describes her as being "tall and upright, wise, gay, humble, pious, liberal and courteous."
Personal Rule
Edward renewed his granddfather, Edward I's war with Scotland and repudiated the Treaty of Northampton, that had been negotiated during the regency of his mother and Roger Mortimer. This resulted in the Second War of Scottish Independence. he regained the border town of Berwick and won a decisive victory over the Scots at Halidon Hill in 1333, placing Edward Balliol on the throne of Scotland. By 1337, however, most of Scotland had been recovered by David II, the son of Robert the Bruce, leaving only a few castles in English hands
The Hundred Years War
The Capetian dynasty of France, from whom King Edward III descended through his mother, Isabella of France, (the daughter of Phillip IV, 'the Fair') became extinct in the male line. The French succession was governed by the Salic Law, which prohibited inheritance through a female.
Edward's maternal grandfather, Phillip IV died in 1314 and was suceeded by his three sons Louis X, Philip V, and Charles IV in succession. The eldest of these, Louis X, died in 1316, leaving only his posthumous son John, who was born and died that same year, and a daughter Joan, whose paternity was suspect. On the death of the youngest of Phillip's sons, Charles IV, the French throne therefore descended to the Capetian Charles IV's Valois cousin, who became Phillip VI.
As the grandson and nephew of the last Capetian kings, Edward considered himself to be a far nearer relative than a cousin. He quartered the lilies of France with the lions of England in his coat-of-arms and formally claimed the French throne through right of his mother. By doing so Edward began what later came to be known as the Hundred Years War. The conflict was to last for 116 years from 1337 to 1453.
Edward then laid siege to the port of Calais in September, which, after a long drawn out siege, eventually fell into English hands in the following August. Edward was determined to make an example of the unfortunate burghers of Calais, but the gentle Queen Phillipa, heavily pregnant, interceded with her husband, pleading for their lives. Calais was to remain in English hands for over two hundred years, until it was lost to the French in 1558, during the reign of the Tudor queen, Mary I.
The Black Prince covered himself in glory when he vanquished the French yet again at Poiters in 1356. Where the French king, John II, was captured. A ransom was demanded for his return which ammounted to the equivalent of twice the country's yearly income. King John was accorded royal privileges whilst a prisoner of the English and was allowed to return to France in attempt to collect the huge ransom. Claiming to be unable to raise the ammount, he voluntarily re-submitted himself to English custody and died a few months later. Peace was then negotiated and by the Treaty of Bretigny of 1360 England retained the whole of Aquitaine, Ponthieu and Calais, in return Edward relinquished his claim to the French throne.
The Black Death
Three of Edward's children, his daughter Joan and young sons, Thomas and William, who had been born in 1347 and 1348, were to die during the outbreak of bubonic plaguein 1348. Joan was betrothed to Peter of Castile, son of Alfonso XI of Castile in 1345, and left England to journey to Castille in the summer of 1348. She stayed at the city of Bordeaux, in southern France, en-route, where there was a severe outbreak of the plague, members of her entourage began to fall sick and die and Joan was moved, probably to the small village of Loremo, where she succumbed to the Black Death, suffering a violent attack she died on September 2, 1348. Edward wrote mournfully to Alphonso XI of Castille:-
In the aftermath of the Black Death there was inevitable social upheaval. Parliament attempted to legislate on the problem by introducing the Statute of Laborers in 1351, which attempted to fix prices and wages.
Queen Phillipa died in August, 1369, of an illness similar to dropsy. The last years of Edward III's reign saw him degenerate to become a pale shadow of the ostentatious and debonair young man who had first set foot in France to claim its throne.
The King began to lean heavily on his grasping and avaricious mistress, Alice Perrers, who had served as a lady-in-waiting to Queen Philippa. Possibly the daughter of a prominent Hertfordshire landowner, Sir Richard Perrers, she became his mistress in 1363, when she was 15 years of age, six years before the queen's death. After the Queen's death, Edward lavished gifts on her, she was given property and even some of the late Queen Phillipa 's jewels and robes.
Alice Perrers gave birth to three illegitimate children by Edward III, a son named Sir John de Southeray (c. 1364-1383), who married Maud Percy, daughter of Henry Percy, 3rd Baron Percy, and two daughters, Jane, who married Richard Northland, and Joan, who married Robert Skerne.
In September 1376 the king was unwell and was said to be suffering from an abscess. He made a brief recovery but, in a fragile condition, suffered a stroke at Sheen on 12th June, 1377. It was said that Alice Perrers stripped the rings from his fingers before he was even cold.
Edward III was buried in Westminster Abbey, the gilt-bonze effigy of the king lies on top of a tomb chest with six niches along each long side holding miniature effigies of the kings twelve children.. The wooden funeral effigy of Edward III, modelled from a death mask, survives at Westminster Abbey and has a twisted mouth, which suggests the effects of a stroke on the ageing king.
(Source:
HERE
)
King Edward III

(1327 - 1377)

Name: King Edward III
Born: November 13, 1312 at Windsor Castle
Parents: Edward II and Isabella of France
Relation to Elizabeth II: 17th great-grandfather
House of: Plantagenet
Ascended to the throne: January 25, 1327 aged 14 years
Crowned: January 29, 1327 at Westminster Abbey
Married: Philippa, Daughter of Count of Hainault
Children: Seven sons and five daughters, plus at least 3 illegitimate (by Alice Perrers)
Died: June 21, 1377 at Sheen Palace, Surrey, aged 64 years, 7 months, and 6 days
Buried at: Westminster Abbey
Reigned for: 50 years, 4 months, and 25 days
Succeeded by: his grandson Richard II

King of England from 1327, son of Edward II. He assumed the government in 1330 from his mother, through whom in 1337 he laid claim to the French throne and thus began the Hundred Years' War. Edward was the victor of Halidon Hill in 1333, Sluys in 1340, Crécy in 1346, and at the siege of Calais 1346–47, and created the Order of the Garter. He was succeeded by his grandson Richard II.

Edward's early experience was against the Scots, including the disastrous Weardale campaign in 1327. Forcing them to battle outside Berwick at Halidon Hill he used a combination of dismounted men-at-arms and archers to crush the Scots. Apart from the naval victory of Sluys his initial campaigns against France were expensive and inconclusive. Resorting to chevauchée (raids through enemy territory), he scored a stunning victory at Crécy, which delivered the crucial bridgehead of Calais into English hands. Due to the brilliant success of his son Edward of Woodstock (Edward the Black Prince) at Poitiers in 1356, and later campaigns, Edward achieved the favourable Treaty of Brétigny in 1360. He gave up personal command in the latter part of his reign. An inspiring leader, his Order of the Garter was a chivalric club designed to bind his military nobility to him, and was widely imitated.

Edward improved the status of the monarchy after his father's chaotic reign. He began by attempting to force his rule on Scotland, winning a victory at Halidon Hill in 1333. During the first stage of the Hundred Years' War, English victories included the Battle of Crécy in 1346 and the capture of Calais in 1347. In 1360 Edward surrendered his claim to the French throne, but the war resumed in 1369. During his last years his son John of Gaunt acted as head of government.


| | |
| --- | --- |
| Timeline for King Edward III | |
| | |
| --- | --- |
| 1327 | Edward III accedes to the throne after his father, Edward II, is formally deposed. |
| 1328 | Edward marries Phillipa of Hanault |
| 1329 | Edward recognizes Scotland as an independent nation |
| 1330 | Edward takes power after three years of government by his mother, Isabella of France, and her lover, Roger Mortimer. He imprisons his mother for the rest of her life. |
| 1332 | Parliament is divided into two houses, Lords and Commons. English becomes the court language replacing Norman French. |
| 1333 | Defeat of Scottish army at Halidon Hill. |
| 1337 | French King Philip VI annexes the English King's Duchy of Aquitaine. Edward III responds by laying claim to the French crown as a grandson of Philip IV though his mother Isabella. This results in the 100 Years' War with France. |
| 1344 | Edward establishes the Order of the Garter |
| 1346 | David II of Scotland invades England but is defeated at Neville's Cross and captured. |
| 1346 | French defeated at the Battle of Crecy. |
| 1347 | Edward besieges and captures Calais. |
| 1348 | -1350 The Black Death, bubonic plague which caused the skin to turn black, kills one-third of the English population. It leaves an acute shortage of labour for agriculture and armies. |
| 1356 | Black Prince defeats the French at Poitiers capturing King John II of France who is held prisoner for four years. Most of South Western France is now held by the English. |
| 1357 | David II of Scotland is released from captivity and returns home to Scotland. |
| 1360 | King John II of France is released on promise of payment of a ransom and leaving his son Louis of Anjou in English-held Calais as hostage. |
| 1364 | Louis escapes and John unable to pay the ransom returns to England where he dies. |
| 1367 | England and France support rival sides in the civil war in Castille |
| 1369 | War breaks out again as the French take back Aquitaine. |
| 1370 | Edward, The Black Prince, sacks Limoges massacring 3,000 people. |
| 1372 | French troops recapture Poitou and Brittany. Naval Battle at La Rochelle. |
| 1373 | John of Gaunt leads an invasion of France taking his army to the borders of Burgundy. |
| 1373 | John of Gaunt returns to England and takes charge of government. Edward and his son are ill. |
| 1375 | Treaty of Bruges. English possessions in France are reduced to the areas of Bordeaux and Calais. |
| 1376 | Parliament gains right to investigate public abuses and impeach offenders; the first impeachment is of Alice Perrers, Edward's mistress, and two lords. |
| 1376 | Death of Edward, the Black Prince. |
| 1377 | Edward III dies of a stroke at Sheen Palace, Surrey, aged 64 years |
(Source:
HERE
)
Short Biography profile and facts about the life of King Edward III of England
Nationality: English
Lifespan: 1312 – 1377
Reigned as King of England: January 25, 1327 - 1377. His coronation was on February 1, 1327
Date of Birth: King Edward III was born on November 13, 1312 at Windsor Castle
Family connections / Genealogy:
He was the son of the deposed King Edward II of England and Queen Isabella of France
Married: Philippa of Hainault (c. 1314-1369) in 1328
King Edward III and Queen Philippa had twelve children, seven sons ( only five survived) and five daughters:
Edward, Prince of Wales - the Black Prince
Lionel, Duke of Clarence
John, Duke of Lancaster ( John of Gaunt)
Edmund, Duke of York
Thomas, Duke of Gloucester
His daughters were called Isabella Plantagenet (1332 - 1382), Joan Plantagenet (1335 - 1348), Blanche Plantagenet (b. 1342), Mary Plantagenet (1344 - 1362) and Margaret Plantagenet (1346 - 1361)
Date when King Edward III died: June 21, 1377 at Sheen Palace. He died of a stroke and was buried in Westminster Abbey
Cause of the Death of King Edward III: Old age
Character of King Edward III: Edward was liberal, kindly, good-tempered, strong, ambitious and a notorious womaniser. His most famous mistress was the devious, scheming and greedy Alice Perrers
Accomplishments or why King Edward III was famous: Starting the Hundred Years War between England and France. His main ambition was military glory. The terrible Black Death resulted in the death of nearly a third of the population of England
The story and biography of King Edward III which contains interesting information, facts & the history about the life of King Edward III
The story of King Edward III
The fifty year reign of King Edward III began when his father, Edward II of England, was deposed on 25 January 1327. For about three years Queen Isabella and her lover, Roger Mortimer ruled England but as soon as her son, King Edward III., was crowned he kept the queen incarcerated for the rest of her life and executed Roger Mortimer. King Edward I married Phillipa of Hainault (now part of Belgium). Edward had a claim to the French throne and called himself King of France and England. This began a war which lasted for one hundred years. King Edward III and his eldest son, Edward Prince of Wales (the Black Prince) gained a very great victory at Crecy. Edward besieged Calais, the town just opposite to Dover. The inhabitants were very brave, and held out for a long time.
Whilst King Edward was absent, the Scots under David, the son of Robert Bruce, came over the Border, and began to burn and plunder in Northumberland. However, Queen Phillipa did not send for her husband, but called an army together, and the Scots were so well beaten at Neville's Cross, that their king, David himself, was obliged to give himself up to an English squire. The man would not let the queen have his prisoner, but rode day and night to Dover, and then crossed to Calais to tell the king, who bade him put King David into Queen Philippa's keeping. She came herself to the camp, just as the brave men of Calais had been starved out; and Edward had said he would only consent not to burn the town down, if six of the chief townsmen would bring him the keys of the gates, kneeling, with sackcloth on, and halters round their necks, ready to be hung. Queen Philippa wept when she saw them, and begged that they might be spared; and when the king granted them to her she had them led away, and gave each a good dinner and a fresh suit of clothes. The king, however, turned all the French people out of Calais, and filled it with English, and it remained an English town for more than 200 years.
King Philip VI. of France died, and his son John became king, while still the war went on. The Black Prince and John had a terrible battle at a place called Poitiers, and the English gained another victory. King John and one of his sons were made prisoners, but when they were brought to the tent where the Black Prince was to sup, he made them sit down at the table before him, and waited on them as if they had been his guests instead of his prisoners. He did all he could to prevent captivity being a pain to them; and when he brought them to London, he gave John a tall white horse to ride, and only rode a small pony himself by his side. There were two kings prisoners in the Tower of London, and they were treated as if they were visitors and friends. John was allowed to go home, provided he would pay a ransom by degrees, as he could get the money together; and, in the meantime, his two elder sons were to be kept at Calais in his stead. But they would not stay at Calais, and King John could not obtain the sum for his ransom; so, rather than cheat King Edward, he went back to his prison in England again.
King Edward, was now too old and feeble to attend to the affairs of the country. Queen Philippa was dead too, and as no one took proper care of the poor old king, he fell into the hands of bad servants, who made themselves rich and neglected him. When, at length, he lay dying, they stole the ring off his finger before he had breathed his last, and left him all alone, with the doors open, till a priest came by, and stayed and prayed by him till his last moment. He had reigned exactly fifty years.
Edward, the Black Prince, the eldest son of King Edward III of England and Philippa of Hainault never ruled as king, pre-deceasing his father by one year. The Black Prince was father to King Richard II of England who succeeded King Edward III at the age of just eleven years old.
(Source:
HERE
)
(Source:
HERE
)
Edward III (r. 1327-1377)
(Source:
HERE
)
Edward III
Edward III
,
byname
Edward of Windsor
(born
November 13, 1312
,
Windsor
,
Berkshire
, England—died
June 21, 1377
, Sheen, Surrey), king of England from 1327 to 1377, who led
England
into the
Hundred Years' War
with France. The descendants of his seven sons and five daughters contested the throne for generations, climaxing in the
Wars of the Roses
(1455–85).
HERE
)
Edward III, watercolour, 15th century; in the British Library (Cotton MS. Julius E. IV).
EDWARD III PLANTAGENET (King of England)
Born: 13 Nov 1312, Windsor Castle, Windsor, Berkshire, England
Christened: 20 Nov 1312
Acceded: 1 Feb 1327, Westminster Abbey, London, England
Died: 21 Jun 1377, Sheen Palace, Surrey, England
Buried: Westminster Abbey, London, England
Notes: Reigned 1327-1377. Edward assumed effective power in 1330 after imprisoning his mother and executing her lover Roger De Mortimer who had murdered his father; therafter his reign was dominated by military adventures. His victory in Scotland, especially at Haildon Hill 1333 encouraged him to plan (1363) the union of England and Scotland. Through his mother he claimed the French throne thus starting (1337) the Hundred years war. His son John of Gaunt dominated the government during his last years. Died of a Stroke.
Father: EDWARD II PLANTAGENET (King of England)
Mother: Isabella of France
Married: Phillippa of Hainault (Queen of England) (b. 24 Jun 1311 - d. 14 Aug 1369) (dau. of William III "the Good", C. Hainault and Holland, and Jeanne De Valois) 24 Jan 1328, York Minster
Children:
1. Edward "The Black Prince" PLANTAGENET (Prince of Wales)
2. Isabella PLANTAGENET (C. Bedford)
3. Joan PLANTAGENET
4. William PLANTAGENET (b. BEF 16 Feb 1337 - d. BEF 8 Jul 1337)
5. Lionel PLANTAGENET of Antwerp (1º D. Clarence)
6.
John "of Gaunt" PLANTAGENET (1º D. Lancaster)
7. Edmund PLANTAGENET of Langley (1º D. York)
8. Blanche PLANTAGENET (b. Mar 1342)
9. Mary PLANTAGENET (D. Brittany)
10. Margaret PLANTAGENET (C. Pembroke)
11. Thomas PLANTAGENET (b. 1347)
12. William PLANTAGENET (b. 24 Jun 1348 - d. 5 Sep 1348)
13. Thomas PLANTAGENET of Woodstock (1° D. Gloucester)
14. Joan PLANTAGENET
Associated with: Alice PERRERS
Children:
15.
John De SOUTHERAY (Sir)
16. Joan PLANTAGENET
17. Jane PLANTAGENET
Associated with: ¿?
Children:
18. Nicholas LYTLINGTON (Abbot of Westminster)
(From: Find A Grave)
Birth:
Nov. 13, 1312
Windsor
Windsor and Maidenhead Royal Borough
Berkshire, England
Death:
Jun. 21, 1377
Richmond
London Borough of Richmond upon Thames
Greater London, England

English Monarch. The son of Edward II and Isabella of France, he was installed as king after his mother and her lover, Roger Mortimer, forced his weak father to abdicate. He was crowned on January 25, 1327 at the age of 14, with his mother and Mortimer in control as regents. Edward married Philippa of Hainault on January 24, 1328 at York Minster. The marriage was a loving, successful one despite Edward's infidelities, and the couple had 13 children. In 1330 at the age of 18, Edward siezed control and had Roger Mortimer executed. He spared his mother, but exiled her from court. Edward ruled successfully for 50 years, during which time he expanded English territory through wars with Scotland and France, and instituted government reforms which affirmed the power of the middle class in Parliament. The country prospered through the export of wool, but the prosperity was tempered by the devastation of the Black Death. Edward died of a stroke at Sheen Palace at the age of 65. His eldest son and heir Edward, the Black Prince, having died the previous year, the throne went to the Black Prince's son and Edward's grandson, Richard. (bio by: Kristen Conrad)

Family links:
Parents:
King Edward II (1284 - 1327)
Isabella of France (1292 - 1358)

Spouse:
Philippa d'Avesnes of Hainault (1311 - 1369)*

Children:
Joan Perrers Skerne (____ - 1431)*
Edward Plantagenet (1330 - 1376)*
Isabel Plantagenet Coucy (1332 - 1379)*
Joan Plantagenet (1334 - 1348)*
Prince William Of Hatfield (1337 - 1337)*
Lionel Plantagenet (1338 - 1368)*
John 1st Duke of Lancaster Plantagenet (1340 - 1399)*
Edmund of Langley (1341 - 1402)*
Blanche de la Tour (1342 - 1342)*
Mary de Waltham (1344 - 1362)*
Margaret Plantagnet Hastings (1346 - 1361)*
William de Windsor (1348 - 1348)*
Thomas Plantagenet (1355 - 1397)*

Siblings:
Joan Plantagent*


King Edward III (1312 - 1377)


John Plantagenet of Eltham (1316 - 1336)*
Eleanor Of Woodstock (1318 - 1355)*
Joan Plantagenet (1321 - 1362)*
Westminster Abbey
Westminster
City of Westminster
Greater London, England
GPS (lat/lon): 51.50008, -0.12923
King Edward's Death Mask............